The global industrial IoT market is expected to reach $263.4 billion by 2027, growing at a CAGR of 16.7% during the forecast period of 2019 to 2027. This market is majorly driven by the factors such as extensive government support in encouraging digitalisation across the industrial sector, rise in adoption of industrial IoT devices, and growing incorporation of cloud computing platforms. In addition, the use of industrial IoT for predictive maintenance and rising number of data centres provides significant opportunities for the IIoT providers.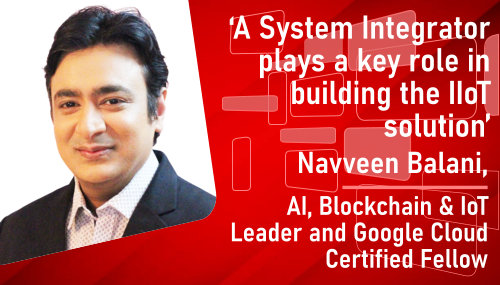 Read my views on the following topics published in the cover story of Industrial Automation magazine –
Link to the publication – https://www.industrialautomationindia.in/interviewsitm/12736/A-System-Integrator-plays-a-key-role-in-building-the-IIoT-solution/interviews
Today, most industry stakeholders are aware of the many benefits of IIoT, yet are wary of joining the revolution. What could be the reasons?
What are the challenges manufacturers face in adopting IIoT solutions?
Is the manufacturing sector, especially the SMEs, constrained by the paucity of system integrators?
Experts believe lack of skills is one of the main reasons for low adoption. How true is this?
In the Indian context, IIoT should actually resonate more with the solutions for brownfield plants, yet the response is slow.
How can the manufacturing sector overcome these hurdles and arrive at a holistic approach?